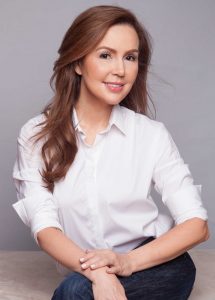 Cristina "Kring-kring" Gonzales-Romualdez was born on May 1, 1976 and was a former Filipina actress and is now a politician. Her father is Jose Mari Gonzalez, a former Filipino actor and Charito Malarky who has Spanish and British descents. Kring-kring started as a sexy star in Philippine cinema and became famous as such during her time. She met Alfred Romualdez and married him. He was the mayor of Tacloban that time. They were blessed with two daughters namely Sofia and Diana.
Cristina became a councilor of Tacloban City and served 2-terms in 2007. It was in 1997 that she had appeared the big screen via the movie "Bagamundo," together with Chuck Perez and Priscilla Almeda. She had appeared in almost 30 movies such as "Bad Boy 1," "Bad Boy 2,' "Bikining Itim," "Nimfa, "kailangan Kita," and "Sana Kahit Minsan." She was definitely the hottest actress during her time.
Everything changed when she met and married Tacloban City Mayor Alfred Romualdez, she decided to quit her career at the height of her popularity. Instead, she focused and concentrated to her family and married life. She was dubbed as an ST star but left her acting career and became a wife, mother, an entrepreneur and a councilor at the same time.
Cristina admits that being a councilor is really different but that she had been enjoying her work as a politician. She's happy to learn new things new things in politics but admits that it was not in her plans. Her father-in-law influenced her to join politics because she can also be an influence to her fellow councilors in terms of voting on useful ordinances for their province.
Her dad is also a politician and she gets advices from him also that can be useful to her. His father was a former congressman of the municipality of San Juan. Aside from being a councilor she also attends to her personal business like the Patio Victoria in Intramuros, a kind of garden establishment for special occasions and events. And since business is good, a second branch in Tacloban was also established. She also has Cristina's Salon and Spa as another business.
Life has been good for Cristina. Business is good, family is at their best, children are well-taken care of, and being a public servant are all rewarding. She also misses acting but says she had her hands full and can only do some guest appearances so far. Cristina is a fulfilled woman and she cannot ask for more.
From being an actress, Cristina is proud of her achievements today. It was a total transformation for the once sexy star of the 90's. Cristina only wishes that her children will grow to be responsible young ladies in the future. Right now, she is busy attending to her family's needs and hopes she can serve effectively in her job. She is a picture of a contented woman, with her loving and supportive husband, her dedicated children she believes nothing can go wrong.