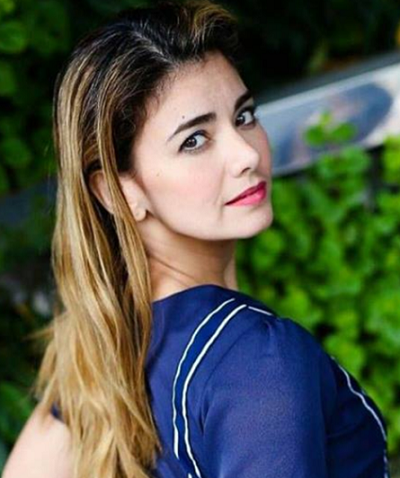 Isabel Granada was born on March 9, 1976 in Manila, Philippines. She is a Filipina actress, singer, dancer and TV host in the Philippines entertainment. Her parents are Humberto Granada, a Filipino chief marine engineer by profession and Isabel Villarama, of Spanish descent. Her mother was dubbed as "Mommy Guapa," which means beautiful, among her colleagues in show business. Isabel speaks English, Tagalog and Spanish fluently. In 1995, Isabel's father died. Eventually, she met Geryk Genasky Aguas, a councilor in Pampanga, Philippines. Although her mother disagrees about her being wed to Geryk, she decided to follow her heart. Isabel and Geryk are now staying in Angeles City, Philippines.
In 1986, Isabel auditioned over the TV show, "That's Entertainment," and became a member of the Tuesday group. This marked her start in her showbiz career in GMA 7. She appeared in "Ikaw Na Sana," and "Sa Puso Ko Iingatan Ka," opposite Judy Ann Santos in ABS-CBN. Isabel also proved her singing talent via her recorded songs entitled "Crush Na Crush Kita," and "Di Na Bale." In the drama series "Kaputol Ng Isang Awit," Isabel played the role of Elena Valderama along with Glaiza de Castro and Lovi Poe. She also starred in "Lalola," and in 2009, she had a guest appearance in the Filipino version "Zorro." Isabel is a contract talent of GMA network.
After quite some time, Mommy Guapa and Isabel had settled their differences. Isabel now is at peace and enjoying her motherhood to his son Hubert and being a wife to Jeric. She now hopes for a total comeback to her impeded acting career. The couple also owns an Internet Café "Counterside," and an ink-refilling business, which is located near their house that makes it very convenient for them to manage.
Isabel is a picture of a contented wife, and she reveals Jeric is the ideal man she had envisioned him to be. Hard working, responsible, and supportive, these are just a few adjectives that she can describe him. Isabel later understood the reason why her mom became overly sensitive and protected over her. She was an only child and after her dad died, the two of them were left behind. Maybe the fear that Mommy Guapa is most likely because Isabel will also have her own family and she will be left alone. Today, the doting grandmother has already accepted the fact, and is already enjoying his grandson.
If there is anything that Isabel wants his son to learn, is to grow to be a God-fearing man.She believes that when you are with God, everything just falls into place perfectly.
Isabel misses tapings and making movies the most. It is the most usual thing after an actress takes a break and focus being a mother and a wife. She had appeared in a fantasy series in ABS-CBN, "Marina," which starred Claudine Barretto, and "Halik Ng Sirena," years back. Isabel had been managed by Dondon Monteverde but had possibly cut his connections to her. She is now being helped by Angge.
Just recently, her family won as Grand Champions, in the Bida Kapamilya, Celebrity Round in Showtime.They almost scored 10, because of the death defying stunts and heart stopping routine featuring roller skating in a fire. They were awarded a 1 Million Cash prize and half of the proceeds went to a choiced charity foundation.